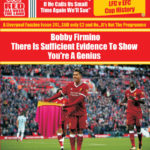 Welcome to Red All Over The Land the last remaining printed version of Liverpool fanzines.
Apologies for the prolonged absence which was caused by the site going down.  Hopefully normal service has been resumed.
Issue 241 will be on sale outside Anfield when we play Watford & The legends game.  Subscribers and contributors copies will be posted when it returns from Mister Printer.
Visit the subscription page for more detail or email the editor at redallovertheland@gmail.com
Red All Over The Land is always on sale on match days at Anfield from our sellers dotted around the ground.