It was just like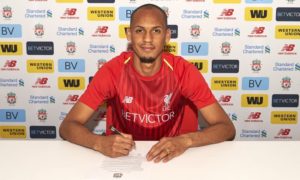 how things used to be. One day nobody was talking about the Brazilian midfielder Fabinho joining Liverpool, the next day he'd signed.
So it was not to be. Sergio Ramos ended Mo Salah's involvement either accidently or possibly intentionally. There's nothing else to say about our goalkeeper and Karius himself will be feeling worse than anyone. Praise to our incredible support not just in Kiev but also at Anfield, there can never ever have been anything quite like it. The season has finally ended but sadly on the lowest of low notes. Nobody can blame Jürgen Klopp and nobody can point the finger at FSG. I'd rather thank them for what they've given us this season and leave it at that.
The biggest game in our recent history takes place in Kiev. Something tells me nerves will be all over the place but we're trying to cope. When I update this website next I hope it will be as a Champion of Europe.
I'm in the process of trying to spread the word about RED ALL OVER THE LAND to try and increase the numbers of subscribers. I've published a digital newsletter which I hope to follow up once the European final is out the way and already the tension is building.
Some current subscribers will have already received this and hopefully via the digital world all of our subscribers will now see it. It will go around the globe via twitter and although I've tried this before maybe now is the right time to bring it back. It's also free.
If you are a previous subscriber, we'd like to try and tempt you back to the fold. Subscriptions are a valued part of the Fanzine world and without them it would be hard to survive. We did have problems previously, but I've worked hard to eliminate them and that has meant trying to come to terms with several forms of modern technology.
We have a very supportive group of subscribers but the target is to at least double the number and to do that we need to get the word back on the streets [or wherever] that 
RED ALL OVER THE LAND 
is still around. 
If you subscribe, let others know about us, if you want to see what the Fanzine is about just try a single copy and then you can decide. Subscriptions rates. are below.
We also have several dedicated contributors who write about all things Liverpool be it the current team, the past teams or even the teams from the very beginning. You could join in, you don't have to be a professional writer in some cases it's just putting your thoughts down on paper [or on a PC]. The more varied the articles, the better.
Over the coming weeks I will be trying to promote 
RED ALL OVER THE LAND
 on Facebook and via Twitter and you could help by doing likewise.
ZINESCENE can be found by copying the link below
https://issuu.com/redallovertheland/docs/zinescene
Top four belatedly secured and another superb home show. Salah broke another record, picked up more awards and of course scored another goal – drought over. Great to see Dom Solanke and Andy Robertson get on the scoresheet and Lovren's header could have broken the net. Great day, nice walk in the sunshine for the players and their families and as far as the league's concerned, job done.
Not the result we wanted but we didn't really deserve anything either. Tired legs or tired minds? Unfortunately the changes we made as the game wore on made no real difference and we're beginning to wonder if Solanke will ever score?